The Wolf Conservation Center Goes, uh, Chimp!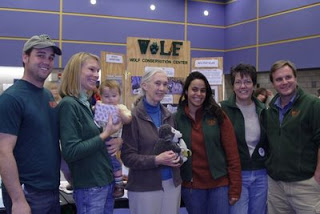 There are few people whose names transcend their chosen fields. Yesterday, the Wolf Conservation Center was lucky to meet one of those people, Jane Goodall, world famous primatologist and environmentalist, at a Roots & Shoots event at Western Connecticut State University.
Roots & Shoots, a program of the Jane Goodall Institute, is about making positive change happen—for our communities, for animals and for the environment. With tens of thousands of young people in almost 100 countries, the Roots & Shoots network branches out across the globe, connecting youth of all ages who share a common desire to help make our world a better place. Young people identify problems in their communities and take action through service projects, and youth-led campaigns.
On Sunday we participated in the WCSU Roots & Shoots Community Fair held on the WCSU Westside Campus. The event brought together young people from area schools, as well as representatives from local non-profit and service organizations to share their wonderful work with the rest of our community and Dr. Jane herself!
Greeting the group in "chimpanzese", Jane Goodall stressed the importance of community and doing something every day to make the world a better place. I was especially impressed (and inspired) by the different groups of kids or "Green Teams" that had already had such a positive impact on their own communities or on communities abroad like Oaxaca, Mexico.
Later we got to briefly meet Dr. Jane and Mr. H, the toy plush chimp that accompanies her on her travels around the world. It was quite an inspiring day and a great reminder that the youngest members of our communities can help bring about significant positive changes.
For more information about Roots and Shoots and the Jane Goodall Institute, please visit their website: http://www.rootsandshoots.org/
– Maggie