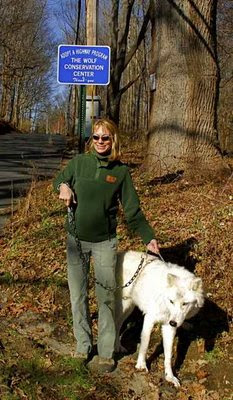 Part of our mission at the Wolf Conservation Center is to let people know that there are simple things we all can do to make the world a better place. Kids at our programs always make great suggestions about what people can do; one of them is often "pick up litter." Well, we've decided to take their advice. In fact, we've even made our commitment to helping keep our community clean official.
Not only do we take care of almost thirty wolves, but we also now have responsibility for a road. That's right, we have officially adopted a road near the Center and pledged to keep it free of trash. Unfortunately, Atka won't always (or ever, for that matter) be there on patrol to discourage potential litterers!
Of course you don't have to officially adopt a road to pick up litter, but if you are cleaning up your neighborhood, or anywhere else, please make sure to watch out for traffic and have adult supervision if necessary!