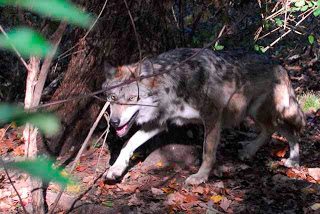 People often ask us how we monitor the health of our wolves. Needless to say, the well-being of our wolves is the top priority of the Wolf Conservation Center, so we constantly take stock of their health. In addition to conducting frequent visual monitoring of the SSP and ambassador wolves, we also conduct periodic veterinary checks for hands-on assessments, vaccinations, and blood-work.
Under program protocols, the SSP wolves (critically endangered Mexican Gray Wolves and Red Wolves that are housed at our facility under a federal program) must be checked by a veterinarian on a yearly basis. Since we have over 20 SSP wolves, the most recent check-ups had to be conducted on three different dates this past fall.
The WCC is very lucky and grateful to have the veterinarians Dr. Charlie Duffy of Norwalk Veterinary Hospital, and Drs. Renee Bayha and Kim Khodakhah of Pound Ridge Veterinary Center donate their time and services to us. It takes dedicated and caring people to venture out in the cold to work in the field, sometime for hours, as the wolves are isolated in capture boxes so they can be thoroughly checked. Huge thanks also go to all the volunteers who helped out, including Chuck Dyckman of Dyckman's Wildlife Control ((800) 696-7803) who is invaluable, especially when it comes to ensuring the safety of our wolves and volunteers.
For photos from two of the check-ups, please click here.