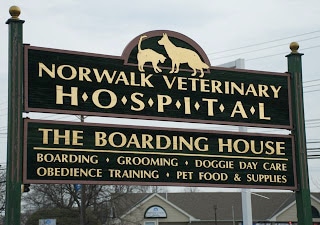 If you have a pet, you know how difficult it can be to bring him/her to the veterinarian. Well, to paraphrase Einstein: "Do not worry about your difficulties in bringing your animal to the vet. I can assure you ours are still greater." The issue came up last month when we got the word that F516, an 11 year-old Mexican Gray Wolf, had to be brought to the vet to be spayed.
To read more about this and for links to photos and video, please click "more" below.
F516 is one of 23 wolves living at the WCC as part of the federal Species Survival Plan for the critically endangered Mexican Gray Wolves. She is a remarkably healthy and spirited wolf, but is no longer able to successfully carry pups to term. Spaying will help protect her health, but because she is so genetically valuable, the directors of the SSP asked that her ovaries be preserved after the operation so that any viable eggs (oocytes) could be harvested. As soon as the procedure was over, the ovaries had to be rushed to La Guardia Airport so they could be flown to the St. Louis Zoo and the oocytes extracted.
First, of course, we had to get her to the vet. Not an easy task given F516's athleticism (I wish I had half her vertical leap), speed, and fear of humans. Luckily, thanks to the foresight of wolf curator Rebecca Bose and the efforts of a team of volunteers, F516 was coaxed into a travel crate with a minimum of fuss.
She was then transported to the Norwalk (CT) Veterinary Hospital where Dr. Charles Duffy performed the operation under the watchful eyes and camera lenses of F516's sizeable entourage. We are very thankful to Dr. Duffy, who has been an invaluable friend to the WCC for years. The ovaries were then whisked to the airport by volunteer Mike McGuire, who ably dealt with the traffic and inevitable bureaucratic snafus.
Later that afternoon we received word that 67 viable eggs, even more than expected, had been successfully harvested. More importantly, by that time F516 was already comfortably resting in her enclosure at the Center. None of us was surprised that within a day she seemed to have fully recovered her usual energy. Perhaps one of the best "side-effects" of the spaying is that she will now be able to spend winters with her mate, M575. We wish them both many years of healthy companionship!
For a video of highlights from the day, please click here. Please note: this video is not gory, but it does show some of the operation. If you are squeamish, you probably will not enjoy watching it.
For some non-gory photos, click here.