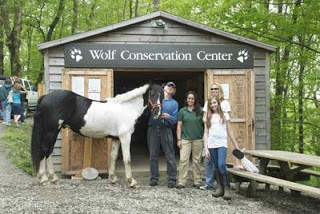 Last weekend saw another successful entry in the Wolf Conservation Center lecture series as Frank Weller, the co-founder of the Equine Angels Rescue Sanctuary (E.A.R.S.), appeared at the WCC with a rescued foal. E.A.R.S. is devoted to rescuing unwanted foals that are an unfortunate result of the manufacture of Premarin, a pharmaceutical. Frank gave a moving slide show about the foals and then introduced everyone to Jude, a rescued foal that has since been adopted. After the incredible opportunity to meet Jude face to face, visitors then had the pleasure of spending some time watching, and howling with, our ambassador wolves. For photos of the event, click here.
The next guest lecture will be about bears on July 19th. It should be a great way to learn about another often-misunderstood animal, so we hope you'll join us!
And don't forget – our current free contest ends in a few days, so enter now!