WCC Goes to the Birds – Contest!

For the last few months some of us here at the WCC have gone a little bird-crazy. Maybe seeing that Arctic Snowy Owl in Norwalk, CT last fall helped start us. By the end of the winter we were watching eagles near Bear Mountain (above photo). Then we started keeping track of how many hawks we spot (right photo) each time we bring Atka out for a program. (The record is over 60 for one drive! Yes, it was a long drive.) We even put a woodpecker feeder over the pond in Atka's enclosure.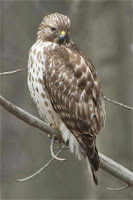 Obviously, there's plenty of birds to see around here – you probably didn't notice, but I just took a break from writing this to take a look at a hawk Spencer spotted in a tree between the office and the ambassadors' enclosure. We're certainly not bird experts, but we are trying to learn more, especially since there are many birds that benefit from the presence of wolves in an ecosystem. Did I mention that there's plenty of birds around here? Now there's a procession of wild turkeys walking down the path toward the classroom! OK, I promise – no more avian distractions; let's get to the contest.
We've come across a few cool bird-oriented items we'd love to share with you, so we're giving them away in a contest. We have a few copies of The Bird Songs Anthology by Les Beletsky,
a book that has descriptions of 200 different types of birds along with an audio player to hear their calls; and a super fun (and challenging) Scramble Squares® bald eagle puzzle. Both are suitable for all ages. One winner will also receive one of our brand-new matted 8×10 wolf prints. Click here to see a sample.
Here's the deal: email your answer to either, or both, of the following questions to us at nywolf.org@gmail.com Please include your name and age (we won't publish either without your permission.) We'll select the winners from among the responses that correctly answer either question. The big winner will receive a book, the puzzle, and a photo; the other winners will get a copy of the book. Entries must be received by 12:00 am eastern standard time May 19.
Here are the questions:
1) What bird is most closely associated with wolves? (Hints: some call it the wolf-bird, author Edgar Allan Poe made one famous)
2) How do birds benefit from the presence of wolves? (Hint: there could be several correct answers and you can talk about whatever types of birds you want.)
Send your answers or any questions you might have to us at nywolf.org@gmail.com Good luck!