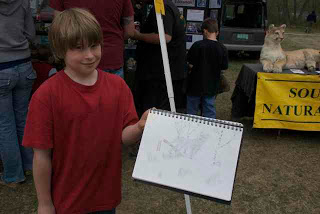 We had a great weekend with Atka, conducting programs in Connecticut, Pennsylvania, and Vermont and meeting a bunch of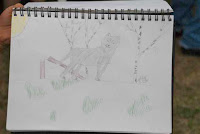 cool people. One of them was Shawn, whom we met at the Herricks Cove Wildlife Festival in Vermont. Shawn was nice enough to show us his drawing of a wolf he had completed before meeting Atka. Hopefully next time we're up there we'll be able to see his drawings of Atka!
We were also lucky enough to run into Michael Clough, the former Operations Manager of the Wolf Conservation Center,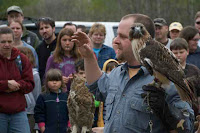 known to many students in the New York metropolitan area as "the wolf guy!" Michael, who founded and runs Rockhopper Outdoor Education in Vermont, was giving a presentation on birds of prey. Or at least that was the part we saw as we came in on the (red) tail end of his talk. It was great seeing him again. In addition to being a super person, he's an excellent and fun educator, so if you're in the area try to check out one of his programs!
And of course, don't forget to enter our current contest!