June Contest! Let us treat you to Three Cups of Tea

Time for our second contest!
One of the Wolf Conservation Center's most important messages is that we can all do something every day to make the world around us a better place. Our June contest is simple: we want to know what you can do to improve the world around you.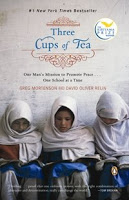 All you have to do to enter is send us your idea. Specific ideas are better than general – for example "conserving water" is good, but "shutting off the water when I brush my teeth" is even better. Helping the environment is great, but anything that helps the world around you, even "being nicer to classmates or co-workers" counts! It can also be something you could do with your family, friends, or classmates. You don't have to actually put your idea into action, but we'd love it if it's something you actually plan to do.
Winners will be picked at random, so you don't have to worry about coming up with the cleverest idea or the one that makes the biggest impact. Anything that helps is good!
To enter, just email your idea along with your name and age (the contest is open to all ages) to us at nywolf.org@gmail.com The deadline is June 20th at 12:00 am. We won't publish any names or ideas without permission. We're psyched to see your ideas!
The prizes (you were waiting for that, weren't you) this month are really cool!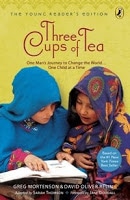 Our friends at publisher Penguin Books have provided us with copies of Three Cups of Tea by Greg Mortenson and David Oliver Relin. We have copies of the original version (above) as well as the new young reader's edition (right) of the book. Three Cups of Tea is an inspirational and exciting true tale that shows how a determined person can change the world. It tells the story of how Mortenson, an American mountain climber, repaid the kindness of a Pakistan village by returning there to build a school, and has been building schools in the region ever since. Be warned: once you start the book, it's hard to put it down!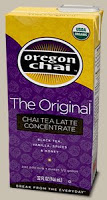 In addition, our new friends at Oregon Chai, which happens to be our favorite brand of chai mix (Josh went through a case this past winter!), were nice enough to donate boxes of their chai to give away!
So, winners will receive a copy of the book, one of our special new WCC bookmarks, and a box of Oregon Chai mix. One grand prize winner selected by us will also receive a plaster wolf paw print for leaving his/her "mark" on the world.
If you have any questions, please email us at nywolf.org@gmail.com
Good luck!