Defenders of Wildlife Obtains Graphic Photos of Aerial Hunting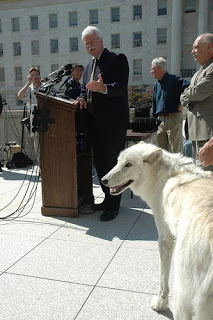 Congressman George Miller (CA) and Defenders of Wildlife president, Roger Schlickeisen, introduce PAW Act with WCC staff and ambassador wolf, Atka
Defenders of Wildlife obtained extremely disturbing behind-the-scene photos of Alaska's wolf hunting program. These images are graphic and are not suitable for young children. If you choose to view these images, please press the play button below. If you want to do something to put an end to aerial hunting, please continue to scroll down and learn how to take action.

Under Alaska's aerial hunting program more than 1000 wolves have been killed since 2003. Alaska is the only state in the U.S. where private trophy hunters use aircraft to gun down wolves from low-flying airplanes or chase them to exhaustion, then land and shoot them at point-blank range.
We have a real chance to put a stop to this barbaric practice once and for all.
The WCC is working with Defenders of Wildlife to build support for the Protect America's Wildlife (PAW) Act, a bill that would close the deadly loophole that allows Alaska to continue its aerial hunting program. If passed, PAW will close this loophole and prevent other states who are proposing to follow Alaska's example. Speak up for wolves! If you agree that it is time to ground Alaska's illegal and inhumane air assault on wolves, it's crucial that our elected officials in Congress hear from you. This is our best chance to end aerial wolf hunting, and we don't have any time to lose.
Here's how to help:
1) You can find your representative by visiting www.house.gov and entering your congressional district. This will take you to your representative's web page.
2) Call or write your representative and ask them to Please co-sponsor the PAW Act (H.R. 3663)
3) If your Representative is already a co-sponsor, THANK them!
Spread the word!