Guest Lecturer William Berloni Talks Dogs — From Shelters to Stardom!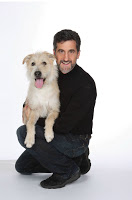 The Wolf Conservation Center's lecture series continues this weekend with another unique program this Sunday on November 15th!
We'll be celebrating the wolf 's cuddly canine "cousin" – the dog – with William Berloni and some of his canine celebrities!
For more than 30 years, William Berloni and his company have been training animals for the stage. Berloni primarily takes animals rescued from shelters and prepares them for a life in the limelight. His pioneering humane training techniques have won multiple awards! Join us as Berloni shares some heartfelt stories of rescued dogs who became superstars. A visit with the Ambassador wolves-Kaila, Apache, Lukas and Atka will follow the talk.
Pre-registration is required.
Click here to view the November schedule and register today!