Free Contest to Get "Saved"!

Wolves make excellent companions, but only for other wolves. The Wolf Conservation Center always stresses that people who want a great pet should look into adopting from shelters – there's so many amazing animals out there who need homes. So we were psyched to come across Saved by Karin Winegar, a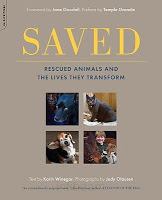 book that recounts 28 stories of rescued animals, ranging from dogs to birds to horses to deer, and the people whose lives they've touched. There's some amazing profiles of animals and people who have weathered tough times and gained strength from each other. From the pair of three-legged Great Pyrenees dogs to the tough-talking sheriff with a not-so-hidden soft spot for kittens and other abandoned animals, there's lots of memorable characters. Plenty of excellent photos by Judy Olausen too. The publisher, Da Capo Press, was kind enough to provide us with several copies to give away. Here's all you have to do for a chance to win a copy along with a WCC bookmark:
Just send us an email at nywolf.org@gmail.com and tell us about an animal that has made a difference in your life. It could be yours, someone else's, a wild animal, one from a book (fiction or nonfiction), etc. We'll pick the winners at random from the entries we receive. If you want to write a description or send a photo, that's great, but you certainly don't have to (and it won't affect your chances of winning). A simple name, e.g. Tucker the cat, is good enough. We may ask you if we can post your story or photo; we won't share them without permission. If you want to mention more than one animal, that's fine too; you'll only be entered in the drawing once, but we'd be happy to read the stories!
The deadline for entries is 11:59pm EST February 3, 2010 (in other words, next Wednesday). Send those entries or any questions you might have to nywolf.org@gmail.com Good luck!