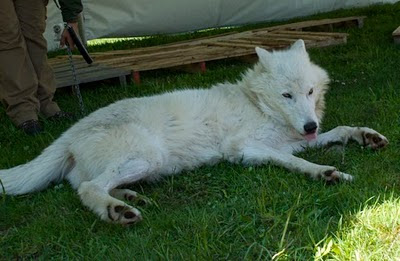 Last Friday was such a gloriously sunny and warm day that a lot of us thought it was Saturday! Luckily, our first stop with Atka, the Wolf Conservation Center's traveling Arctic gray wolf ambassador, was the outdoor Beltaine Festival in Oxford, Connecticut, so we were able to fully enjoy the weather. It was the second year we were invited to the festival, and once again we had a great time in a beautiful setting.
To kick things off, Maggie gathered some spectators for a group howl (see photos below) to let folks know that the program was starting. Before long, Atka was brought out, looking especially impressive with most of his winter coat intact. Despite the crowd's best efforts, Atka refrained from howling, but he certainly enjoyed himself in the grassy field. While wolves in the wild can smell prey 4 miles away, Atka wowed everybody with his uncanny ability to find, and roll in, extremely fragrant cow poop that was located about 4 feet away from his sensitive schnoz.
It's always a treat to witness this natural behavior; the audience was lucky enough to see an extended session as Chandra's Charms, one of the festival's vendors, kindly donated a vial of "Nag Champa" essential oil, which Atka delightedly rolled in. We certainly hope everybody enjoyed the experience as much as Atka did! Even Noah, from the WCC staff pack, managed to get in on the act, romping in the grass after Atka had left and soaking up compliments left and right.
After a quick tour of the many vendors, including the distant gongs that had earlier caught Atka's attention, we hopped into the van, rolled down the windows (a definite must, given the scent-rolling!) and headed down the road for a return trip to Monroe, CT, for an appearance at a girl scout-sponsored event. It was another fun full-to-capacity program featuring lots of great questions from the scouts and another display of scent rolling by Atka, this time after we let loose a few drops of "Dragonsblood," another essential oil from Chandra's Charms. After the program, some of the members of Troop 34444 proudly showed off some awesome origami wolves they had made. (photo below) And we even got some much-appreciated assistance loading our merchandise back into the van! (Thanks Brianna!)
Finally we headed back home in time for the "Evening Howl!" visitors to see Atka. It was a long day of work, but so much fun it really did feel like the weekend!