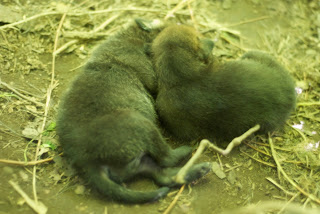 Since it had been a few days since we saw any signs of M1803 and M1804, the red wolf pups born last week at the Wolf Conservation Center in South Salem, NY, we decided to take a quick look to make sure they were ok. The enclosure is sizable and has some areas of thick brush, but luckily we had observed the parents spending time near where we initially found the pups, so we focused our attention there.
After a few minutes of searching, eagle-eyed curator Rebecca Bose spotted the two snoozing pups in a small clearing under a thicket of brush and thorns. We ascertained that the pups were healthy (and looking bigger than they did a few short days ago) and quickly left. We're happy to see that first-time mom F1397 seems to be doing a good job of taking care of her sons!
We'll have a brief video of the 9-day-old pups up tomorrow!