Young Conservationists Partner up with the WCC!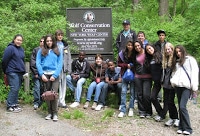 Thanks to Woodmere Middle School's Diane Bentivegna, a fine group of 8th graders are well prepared for meeting the environmental challenges of the future. Wolves have always been among Ms Bentivegna's passions and after Atka's visit to Woodmere Middle School in 2006, students and teachers alike began to embrace the wolf as well.
Ms. Bentivegna started working with her team of students when they entered the sixth grade. Three years later, the young conservationists have taken on environmental challenges within their own community and beyond as a part of their "Campaign Earth" mission. Their eighth grade year began with a project to help protect wetlands and wildlife at the Marine Nature Study Area in Oceanside Long island and is now coming to close with a wolf curriculum under their belts. Thank you, Ms Bentivegna and thank you, Adam, Dimitri, Carlee, Sal, Jessica, Jake, Ross, Dominique, Alize, Randy, Gabriela, Weelelmy and Jazly. You exemplify the amazing potential of your generation to make this world a better place. Keep up the great work and good luck in high school!
To read more about Ms Bentivegna's Students and "Campaign Earth", please click "Here"!
If you are interested in becoming an educational partner with the WCC, please email Maggie at maggie@nywolf.org.