The WCC will Host Three Breeding Pairs in 2011!

M1483 and F1397 by Josh Lewis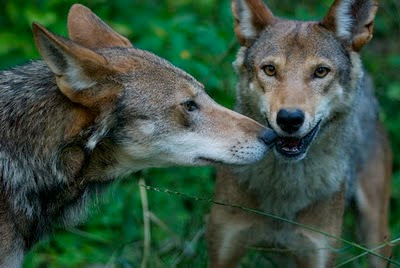 Although we are only midway through the summer season, the WCC team has been preparing for winter. Earlier this month, the Species Survival Plan (SSP) management groups for both the Mexican gray wolf and the red wolf determined the programs' breeding pairs for the 2011 season. Wolves are "mono-estrus" — breeding only once a year during the winter months. Hence, winter is an exciting time for wolves in North America and the WCC since we will again host three breeding pairs! Last week we announced plans to provide Mexican gray wolves F810 and M740 with the opportunity to procreate and we learned at last week's Red Wolf SSP meeting that red wolf pairs F1291 & M1587 and F1397 & M1483 will also get a chance to prove fruitful! All six of these wolves are genetically valuable individuals that have been selected to breed because their offspring will increase the genetic diversity of their rare species. The WCC's exhibit red wolf pair, F1397 & M1483, bred successfully last season so a triumphant go at it in this winter may offer WCC guests a chance to observe a multi-generational pack of this critically endangered species! We won't know the outcome of any of these unions until "pup season" in April or May so until then, keep your fingers crossed.