Lukas R.I.P. (April 28, 1998 – August 20, 2010)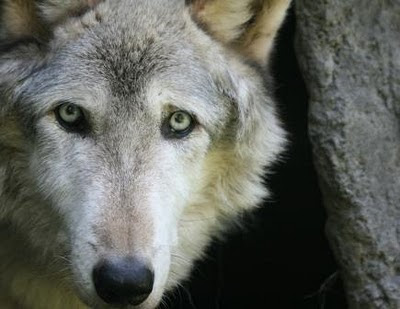 It is with great sadness and disbelief that the Wolf Conservation Center (WCC) announces the death of Lukas, the twelve-year-old member of the Center's "ambassador" pack, after a very short battle with cancer. Lukas was second in command in his pack, loyal to the end to his leader and dear friend Apache. The largest and likely strongest of the ambassador wolves, Lukas never tried to depose Apache; he was the perfect "wing-man" – a brawny and faithful comrade.
Although Lukas was known to maintain a safe distance from human visitors, his presence never failed to impress those he met. His piercing eyes and high-pitched howl enchanted visitors, staff, and volunteers alike. Ladies couldn't resist falling for him! Lukas was a beautiful animal and he served as an impressive ambassador for his wild brothers and sisters.
Lukas' passing comes just 5 months after the loss of Apache. The timing is painfully fitting, the beta forever devoted to the alpha of the pack. Soon Lukas will join Apache as a part of the Yellowstone landscape where they will forever dwell among so many other principal characters in the wolf world.
We didn't let Lukas go without a fight. A team of knowledgeable and talented doctors generously donated their time, facilities, and treatments to give this cherished animal a second chance. We cannot thank them enough.

Dr. Gerald Post DACVIM

Dr. Charlie Duffy VMD

Dr. Edward Mayland DVM
"How lonely is the night without the howl of a wolf." ~ Unknown