Julie of the Wolves. Oops, make that Jean!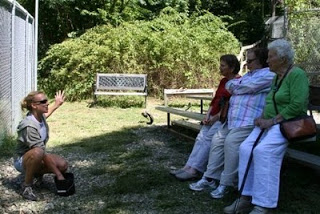 During the weekend the Wolf Conservation Center welcomed a visit from Westchester's own Jean Craighead George, the Newbery Medal-winning children's author and environmentalist who is an inspiration for children and adults alike! Jean is both a friend and neighbor of the WCC and it is always a joy when she stops by for a quick "wolf fix." We talked about some of Jean's new works like "The Buffalo are Back" and her summer research on whales which will enable her to spotlight this amazing creature as well. Jean was accompanied by two of her friends, Mimi and Amy, who were instrumental in the publishing and honoring of "Julie of the Wolves" decades ago.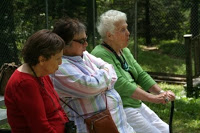 The three ladies howled away with Atka and some of the Mexican wolves chimed in too! Next year we'll celebrate the 40th anniversary of "Julie and the Wolves." I just bought a copy for my 8-year-old niece 2 weeks ago!
To learn more about the works of Jean Craighead George, please visit her website at www.jeancraigheadgeorge.com.