Mexican Wolves F837 and M805 are United and Delighted?

On October 22nd, Mexican gray wolf F837 got a new neighbor. His "name" is M805. For the past three weeks the two seven-year-old lobos have lived adjacent to one another in a vast enclosure split down the middle. It's been a good time for them to get to know one another through the fence. Today we opened their gates allowing F837 to have a male companion for the first time in her life!
Everything had to be perfect. The ambiance was just right, the two wolves met over dinner (raw deer legs, a favorite!)to engage in light chatter and such. M805, however, was more interested in his meal than his lovely companion! He bared his teeth at F837 when she initially approached him with caution.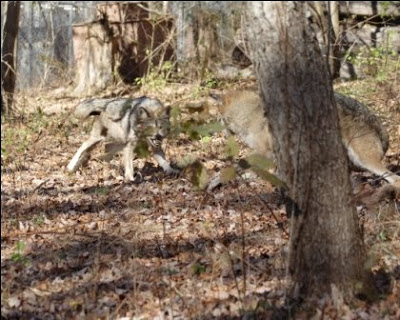 Without skipping a beat, F837 got the message and returned to her own feast. The two are resting now with full bellies and a future together to work out.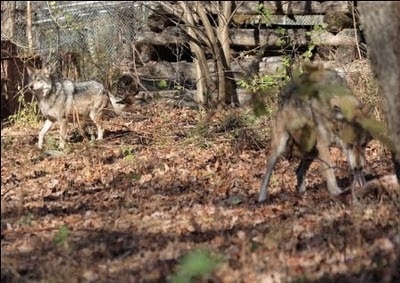 Both F837 and M805 are living in the WCC's new Lobo Exhibit so be sure to say hello when you next visit the WCC!