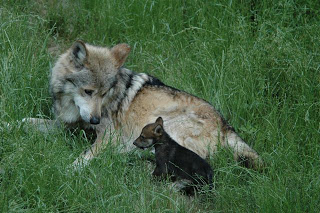 On a cold November night 3 years ago the WCC welcomed 8 Mexican gray wolf pups and their parents. They were transferred from the Cincinnati Zoo as part of the Species Survival Plan for these critically endangered wolves.
Today we waved goodbye as the remaining three pups (now fully grown of course) headed off to their new home at the Lehigh Valley Zoo in PA. (The other 5 wolves from that litter left for the Columbus (OH) Zoo earlier this year.) While we rarely saw these SSP wolves, who were not kept on exhibit, their presence will definitely be missed.
We wish these beautiful representatives of their sub-species a safe trip and a bright future!