Don't worry M1483, red wolf F1397 is bound to come around!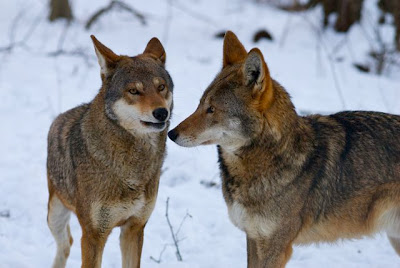 Red wolf F1397 says "Not now.." to M1483 by Josh Lewi

s
It's an exciting time for wolves and the WCC — it's the season of romance! Hormones are racing and several courtships have begun. We're keeping our eye on three breeding pairs (see The Season of Romance)
in hope that we'll see some promising behavior. Thankfully, we need not rely entirely on eyewitness accounts, our WOLFCAM may help staff, volunteers, and supporters watch some romance between red wolves F1397 and M1483 in real time! These two lovebirds proved fruitful last year mating during the first week of March. We're hoping that they are up for round two this season and we would love your assistance keeping a watchful eye on the pair. Check out our WOLFCAM and please watch for:
– one wolf marking over the other's mark
– nuzzling
– following one another
– parallel walking
-"prancing"
– wrestling
– rear sniffing
– resting one's chin upon another
– tandem urination conveys the same message as a wedding ring 🙂
If you see any of the above behaviors or something else you find interesting, please share what you've witnessed on this blog or on the
WCCs Facebook Page
.
If you see the wolves in a copulatory "
tie
," please contact us immediately at maggie@nywolf.org!
Our finger are crossed!