Mahopac Middle Schoolers are Leaving their Mark!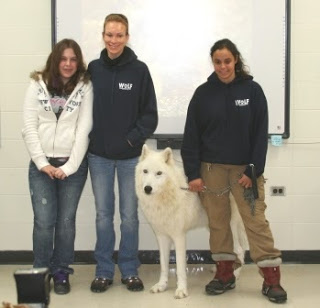 Atka strikes a pose with Mahopac Middle School's Alyssa Kull
Let's "howl it up" for Ms. Peterson's class from Mahopac Middle School! A special group of dedicated students participated in the WCC's 2010-2011 Calendar Drive and raised over $3500! It was our pleasure to thank the wonderful students (including top salesperson Alyssa Kull!) in person. Atka even left them a little gift 😉
If you're school or organization is interested in learning more about how you can participate in our 2011-2012 Calendar Drive and earn an education program from the WCC and Atka, please email maggie@nywolf.org or call 914-763-2373 x2. "Gift" from Atka are not guaranteed!