Happy Birthday M1803 and M1804!

A year ago today, red wolves M1803 (above) and M1804 were born! It has been such a thrill for the WCC family of supporters to watch the two brothers develop into beautiful yearlings via the WCC's WOLFCAM and when attending onsite education programs. My how they have grown! The beautiful boys are breathtaking, currently darker in color than their parents, M1483 and F1397.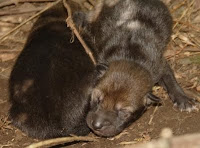 M1803 & M1804 at one-day-old
Perhaps M1803 and M1804 will be celebrating the arrival of young siblings in the next few days. Their parents were selected to breed again this year because their offspring will increase the genetic diversity of their rare species. Happy birthday boys!