What a treat! This afternoon two of the WCC's former super interns stopped by while home from college to say "hi" to the old family. Molly, soon to be a college senior, had volunteered all throughout high school and perhaps a bit of middle school too! Nina also checked in to visit the WCC staff and wolves. It's been a few years since she shared her last semester of high school with us during the spring of 2009.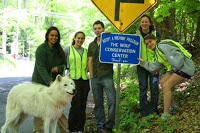 Nina & crew from 2009
Atka and crew were thrilled to see Molly and Nina again as both young ladies exemplify the amazing potential of their generation to make this world a better place. Their commitment to the WCC and their dedication to our mission are among the many reasons we consider them such memorable volunteers.
Their visits were brief, Molly soon to return back to Massachusetts to continue her summer internship at a bio-tech company, and Nina heading back to school for a summer session before off to a college ecology program in Costa Rica. What a joy to see our WCC helpers from the past develop into such impressive young adults. The WCC is currently home to a new pack of outstanding high school students and we can't wait to be wowed by their future endeavors too.