Day One in Yellowstone, A WolfWatcher Sees Her first Wild Wolf!

Late last night we received our first Yellowstone report from Diane Bentivegna of National WolfWatcher Coalition. It appears the Wolf Conservation Center's Summer Yellowstone Adventure is off to an awesome start! Big thanks to Diane for sharing her experience and WCC's Spencer Wilhelm for the photos.
Day One in Yellowstone by Diane Bentivegna
Renowned throughout the world for its natural wonders, inspiring scenery and mysterious wild nature, America's first national park certainly lived up to its extraordinary reputation today. From the unique geological features of the park to the breathtaking mountain environs, visiting Yellowstone became a dream realized for 17 eager nature-enthusiasts who joined the WCC's educational team on a wildlife expedition that will long be remembered as both unique and personally enriching on so many different levels.
Towering 50 feet over us as we arrived through the North Entrance, the Roosevelt Arch, Yellowstone's first major gateway, welcomed us via the town of Gardiner, a vibrant and hospitable western town. With so many different animal species populating Yellowstone, we knew it was impossible to conclude this trip without sighting a myriad of the park's wild inhabitants. And, just as anticipated, an amazing display of free roaming wildlife quickly materialized, captivating our excitement and utter joy!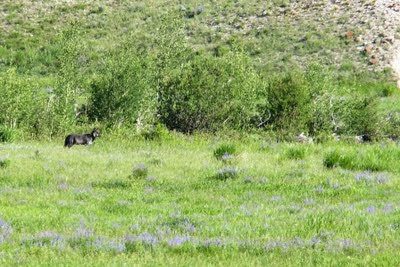 Black Beta Male

754M

of the Lamar Canyon Pack
Personally, a dream was realized on the very first day of my very first visit to this extraordinary natural wonderland! Female 06 of the Lamar Canyon Pack was my first wild wolf sighting….ever! Her amazing reputation for being the pack's rock star/female alpha intrigued me from the earliest stories I have heard about her – her amazing devotion to her pack, her stunning hunting prowess and her inspiring spirit of wild independence awed me. To see her emerge among the vast brush of Slough Creek, carrying meat from a recent kill to feed her newest arrivals back at the den, was the whole purpose for my participation with the WCC expedition this year. When I saw that she was joined by her yearlings, as well, this vision made my 2000 mile trek to America's West go well beyond my expectations! I feel honored that 06 and the rest of the Lamar Canyon pack welcomed me to their wild home and allowed me to share these extraordinary images …memories that I shall remember for the rest of my life!