The 2011 Mexican Wolf Annual Meeting Begins!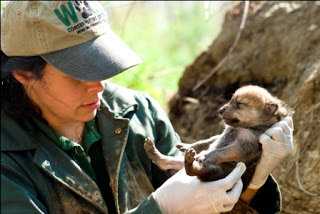 Rebecca Bose with Mexican wolf pup born at the WCC in 2007
Representatives from dozens of facilities participating in the Species Survival Plan (MWSSP) are heading to Mexico City today for the MWSSP Annual Meeting to tackle the all issues associated with conserving the lobo. This meeting is bringing together Fish and Wildlife Agencies from both US and Mexico, many zoo representatives, endangered species reproductive specialists, and WCC curator Rebecca Bose. The bulk of the meeting will begin tomorrow morning but Rebecca, as a member of the Mexican Wolf Management Group, will get right down to business later this evening to discuss the major issues about the 300 captive Mexican gray wolves that call the U.S. and Mexico home. The SSP management position is not entirely new to Rebecca, she has been serving on the Red Wolf Management Group since 2009 and this will be her second year as a member of the Mexican Wolf Management Group. We look forward to hearing Rebecca's reports from the meeting so we can update you on all aspects of the program including how to best recover a sustainable population in the wild.