The Wolf Conservation Center to Host 4 Breeding Pairs This Winter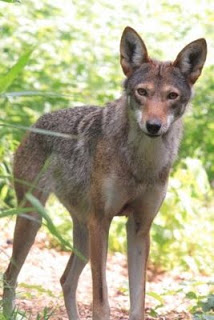 Red Wolf F1291
Although it's only July, Wolf Conservation Center (WCC) staff and volunteers can't stop thinking about the upcoming winter. Earlier this month, the Species Survival Plan (SSP) management groups for both the Mexican gray wolf and the red wolf determined the programs' breeding pairs for the 2012 season. Wolves are "mono-estrus" — breeding only once a year during the winter months. Hence, winter is an exciting time for wolves in North America and the WCC too. This season is especially thrilling because it marks the first time ever that the WCC we will host four breeding pairs! Last week we announced that we're giving two Mexican gray wolf pairs, F749 & M740 and M805 & F837, the opportunity to procreate and we learned at last week's Red Wolf SSP meeting that red wolf pairs F1291 & M1394 and F1397 & M1483 will also get a chance to prove fruitful! Last season red wolf F1291 was paired with M1587 and they failed to produce pups. The two wolves appeared well bonded but the romance wasn't there. F1291 is the fourth most genetically valuable wolf in the red wolf SSP program so we hope that her new companion, M1394, is a good match. All eight of these wolves are genetically valuable individuals that have been selected to breed because their offspring will increase the genetic diversity of their rare species.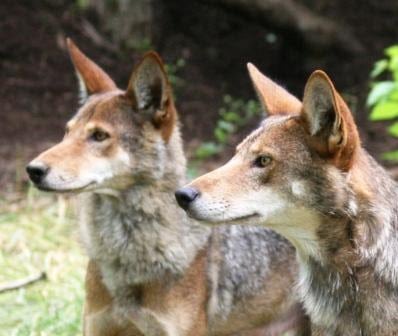 Red wolves F1397 and M1483 getting a chance to add pups to the pack
The WCC's exhibit red wolf pair, F1397 & M1483, bred successfully during the 2010 season so a triumphant go at it in this winter may offer WCC guests a chance to observe a multi-generational pack of this critically endangered species! We won't know the outcome of any of these unions until "pup season" in April or May so until then, keep your fingers crossed.