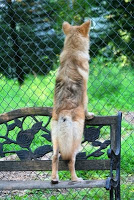 Alawa is raring to go!
The Wolf Conservation Center's (WCC) Ambassador wolf pups are looking less like pups and more like wolves! Although the 4-month-olds have yet to grow into their paws (they are far from full-grown), they are getting ready to leave the "pup enclosure" for more roomy digs. By month's end the dynamic duo will be moving into the WCC's 2.5 acre Ambassador enclosure and will no longer require the care of nannies.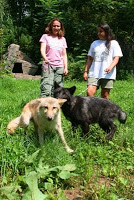 Hélène & Rebecca
This afternoon, WCC staff and co-founder, Hélène Grimaud, let the "wolflets" explore their future home. The siblings bounced about while leashed and went wild once the restraints were off! They only tested a fraction of the habitat, tearing through the vegetation without any hesitation and startling a few critters that had claimed the empty enclosure as their own. The enclosure has been absent of wolves for too long, we can't wait to watch Alawa and Zephyr develop in a home where other great Ambassadors once dwelled.