The first task on today's schedule: Relocating lobos.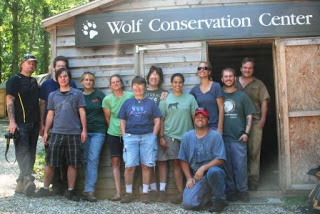 The WCC Team
Hurricane Irene blew down dozens of trees at the Wolf Conservation Center (WCC) early Sunday morning. One of the larger ones landed on enclosure fencing in our secluded endangered species facility where we house wolves that are candidates for release. Even though all of the occupants of the enclosure remained secure, we felt it necessary to move the pack to an alternate site allowing us to more easily mend the broken fence in their current home. At 10AM Mexican gray wolves M804, M807, and F749 were not thrilled to see WCC staff and volunteers descend on their territory. First Irene and now human intruders? What a week…
Thankfully, our task of capturing the lobos took no longer than an hour. Using their fear of humans as an advantage, we flushed the wolves out of the dense (and thorny) vegetation funneling them into capture boxes near the enclosure gates. Although we felt terrible ruining their Wednesday morning, it was reassuring to witness just how elusive and fearful the wolves are.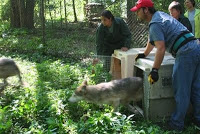 M804 & M807 in their new home
Both wolves and humans felt pretty good at the end of the capture when the pack was introduced into a new home, a vast enclosure full of interesting smells and little critters to hunt. Tomorrow they'll get our housewarming gift – a dead deer 🙂