East Meets West. Different Wolves Share a Common Mission.

Yesterday proved to be another eventful October day at the Wolf Conservation Center (WCC). Atka wowed the great kids from Central Elementary School in Simsbury, CT and then returned home to inspire a group of scouts back in digs at the WCC. It's customary for Atka to do a bit of marking when he first returns home from a road trip and yesterday was no different from the norm. He raised his leg with style to remind us that he is indeed the boss and then scent rolled a few times in the thick weeds along his pathway home. He always checks these spots when en route to his enclosure and no doubt he'll be surprised at what he smells when he next passes by! He won't be detecting his usual trademark scent but the signatures of the great traveling ambassador wolves from Mission: Wolf! Mission: Wolf is a wonderful organization that has led national outreach programs with ambassador wolves for decades.
The organization's two co-founders, Kent Weber and Tracy Brooks, stopped by to give their ambassador wolves Magpie (aka Maggie), Zaeb, and Abe a great couple of hours to run around in one of the WCC's vacant enclosures. I can only imagine what was running through the minds of our lupine guests as they traveled up our driveway with the scents of the WCC's 25 wolves filling their nostrils.
The trio seemed quite at home, stopping to mark on top of Atka's fresh scents from earlier that day. They were eager to explore the overgrown enclosure and as soon as they arrived they rushed the fence line to investigate the diminutive duo living in the adjacent habitat. Wolves tend to love pups and Maggie, Zaeb, and Abe greeted 6-month-old Alawa and Zephyr with tender enthusiasm. The pups came tumbling down the slope to check out the visitors but once Zephyr got a view of his new neighbors, he hightailed it up the hill as fast as his mini legs could carry him! Brave Alawa, however, lingered by the fence to take it all in and her brother eventually decided to join her.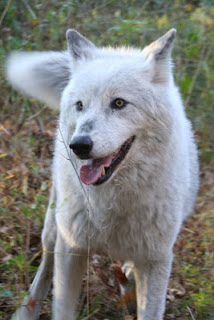 Magpie!
While Maggie, Zaeb, and Abe romped around up and down the hills and in and out of the thick brush, the WCC and Mission: Wolf families discussed the victories, challenges, and heartfelt moments of promoting wolf conservation though education. Once the sun had set we returned the wolves to the Mission:Wolf bus where Maggie, Zaeb, and Abe chewed on some bones while we lingered a bit longer with our friends from the West. At the end of the day, it was clear to all that a visit to the WCC will have to become an annual event. We waved goodbye but not without sending the Mission wolf crew with some roadies: fresh deer legs and bones. Mission: Wolf will be continuing their Ambassador tour of the Northeast for a few more days. Please click here to see if they'll be in your neck of the woods soon!