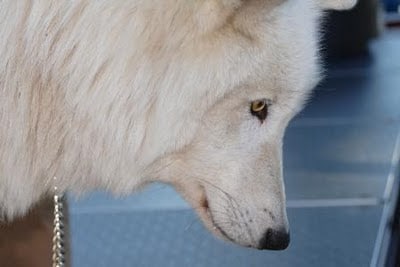 Atka locking eyes with one of the Expo's guests
Yesterday Atka and crew returned to Smithtown, New York to participate in the 8th annual Long Island Wolf Expo! Hundreds of wolf fans of all ages came out for the event. The youngest wolf advocate, at just 19 months old, sported a WCC baby T-shirt with Atka's pup photo with style. We reunited with some loyal supporters who we met from previous expos as well as the dedicated folks from the Loki Clan Wolf Refuge team who work on the behalf of wolves and wolf-dog hybrids. Although the Expo's energy was high, there was an underlying feeling doom and gloom due to the controversial wolf hunts in progress in Idaho and Montana. A great number of guests voiced their concern for the future of wild wolves and the Endangered Species Act and wanted to know what they could do.
Atka had inspired them to take action and thankfully the National Wolf Watcher Coalition was there to advise folks how to speak up on behalf of Atka's wild brothers and sisters.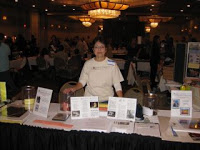 Hundreds of attendees pledged to sign a relatively new petition hosted on whitehouse.gov that will warrant a statement from President if 5000 signatures are obtained by the end of the month. If you too are concerned about the status of the Northern Rocky Mountain wolf population, please consider signing the petition and sharing it with your friends. Big thanks to everyone who came out yesterday to show your support for wolves. See you next year 🙂