Sad News From Yellowstone. 642F R.I.P.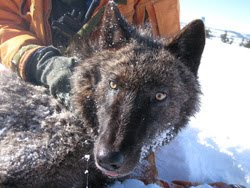 642F – photo: Teton Science Schools Journal **
Montana's backcountry wolf hunt in the remote Absaroka-Beartooth Wilderness along the northern border of Yellowstone National Park is officially closed. The wolf quota for this area was set at 3 (Montana's overall wolf harvest quota is 220), and among the casualties is a collared wolf who many wildlife enthusiasts had the thrill to observe. Her "name" was 642F. This is not the first time a wolf with a name has been taken by a controversial wolf hunt. In 2009 the Montana hunt claimed the Cottonwood pack's breeding female 527F. News of her death weighed heavy on the hearts of Yellowstone's wildlife watchers, she was daughter of legendary breeding pair 21M and 42F, a pair made famous by several PBS and Discovery Channel films. This is a huge blow to wolf watchers and researchers from around the world who flock to Yellowstone to behold wild wolves in action. As Montana's controversial wolf hunt continues, wolf advocates remain hopeful that the ongoing hunt is only a temporary setback on the road to restoring federal protections for the northern Rocky Mountain wolves. Rest in Peace 642F and the other 50 plus wolves that have been taken by this year's hunt in Montana.
If the Idaho and Montana hunts have your hackles up, you're not alone. Today The Alliance for the Wild Rockies, Friends of the Clearwater, and WildEarth Guardians filed their request for an Emergency Injunction from the federal Ninth Circuit Court of Appeals to stop wolf hunts. This announcement comes just days before Montana's statewide rifle season opens. Stay tuned for updates.
** To learn more about the impact 642F had on people, please read this post from 2009 on the Teton Science Schools Journal Blog.