A Clean Bill Of Health for Some Brawny Wolves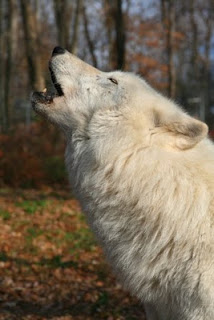 Atka howling for the spotlight
It's always a treat for Wolf Conservation Center (WCC) staff, volunteers, and supporters when the twenty-five wolves that call the WCC home serenade us with their soulful howls. Yesterday, however, the usual sounds that echo throughout the Center were replaced by a collective sigh of relief. Yesterday we completed the last of three "health exam capture days" scheduled this season so our sixteen Mexican gray wolves and six red wolves can return to living peacefully in a natural environment where they can reside without our interference. Congrats to the majority of the wolves we meddled with this season as they will not have to deal with the likes of us for another year!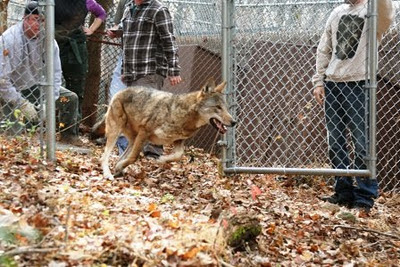 Almost 90lb Red Wolf M1587 returning to his enclosure
Our dedicated team met early in the morning and by noon we had captured, "processed" (administered vaccinations, took blood, and weights), and released back home six red wolves and two Mexican wolves. Everyone was is perfect health and most were almost chunky! Road kill deer does the body good…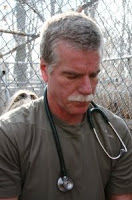 Paul Maus, DVM
Big thanks to our great team of volunteers who came out for the task as well as our generous veterinarian, Paul Maus, DVM from North Westchester Veterinary Office, who donated his time and expertise.
Also big thanks to National WolfWatcher Coalition's Diane Bentivegna who came out to assist. Check out her video of a red wolf capture below.