Love Thy Neighbor! Or Else…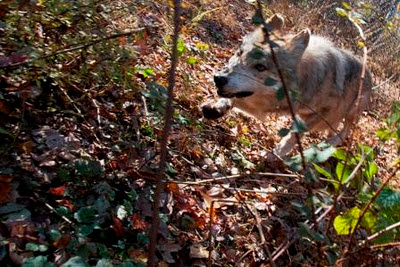 M740 evades our crew/ Photo: Josh Lewis
This time of year Wolf Conservation Center (WCC) staff and volunteers are often prying into the private lives of the critically endangered wolves that call the WCC home. It's the season for annual medical exams and late last month we "processed" (administered vaccinations, took blood, and weights) a family of seven Mexican gray wolves without a hitch. It was the first of three "check-up capture days" scheduled this season. A few days ago, we processed two additional packs of Mexican wolves. The first pack is a family of three: brother wolves M804 and M807 and female wolf F749. Next we captured the second pack, a pair of wolves "named" F810 and M740. The captures and exams very smoothly and thankfully all the lobos passed their check up with flying colors! Now that we had completed the exams, it was time for us to meddle with their personal lives.
Every summer the Species Survival Plan (SSP) management group for the Mexican gray wolf determine which wolves should be bred each year by using software developed for the population management of endangered species. Wolves are "mono-estrus" — breeding only once a year during the winter months, so autumn is the season to make some introductions between our match-made couples.
Mexican wolves M740 and F749 thought they were through with us once we had completed their exams. The wolves don't realize that they are a vital pair with the lowest inbreeding coefficient in the Mexican Wolf Species Survival Plan (MWSSP) program! M740 is nine years old and has called the WCC home since his transfer from the Brookfield Zoo in Chicago, IL in October of 2009. He was paired with Mexican wolf F810 for the past two years but the couple failed to produce pups. So after the check ups were completed, we moved F810 to live with her brothers, M804 and M807, and moved F749 to live with her new mate-to-be. F749 is the same age and joined the WCC family in December of 2009 after living at the U.S. Fish and Wildlife Wolf Management Facility in New Mexico. The pair will live side by side with a fence-line between them so for a few weeks before we formally introduce them. Only time will tell if they're a match, we're hoping they fall head over paws!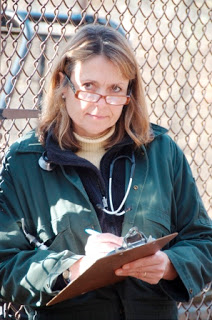 Dr Bayha/ Photo: Josh Lewis
Big thanks to Dr Renee Bayha from the Pound Ridge Veterinary Center for volunteering her time, expertise, and labor this morning and to the lobos that are a part of something much bigger than they realize.