National Geographic's Crittercam Offers New Perspective

Ever wonder what it would be like to see the world through the eyes of a wolf? We certainly have! At the Wolf Conservation Center, we've especially wondered what our ambassador wolves see and think. While we can only guess at what they're thinking, Kyler Abernathy, one of our friends from National Geographic, stopped by the other day to give us some insight into the way our wolves experience their world.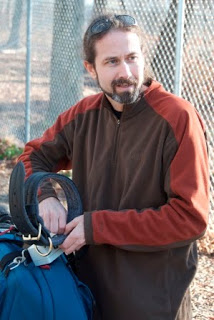 Kyler Abernathy by Josh Lewis
Kyler is the Director of Research for National Geographic's Remote Imagery, which means he's instrumental in the designing and implementing of National Geographic's Crittercams. Working closely with field biologists and other scientists, Kyler and his teams have placed cameras on all sorts of animals, including sea lions, tiger sharks, and grizzly bears, and brought back a wealth of information.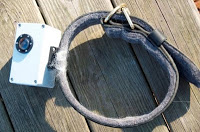 Crittercam Collar. Photo: Josh Lewis
The Crittercam program started with aquatic animals and only moved onto land in the past decade. So when Kyler wanted to test out some cameras and collars for potential use with wolves in the wild, we were only too happy to offer the services of our ambassador pack. Visiting the day after Thanksgiving, Kyler was graced by beautiful weather and complete cooperation from Atka, our 9 1/2 year-old Arctic gray wolf, and the 7 month old siblings Alawa and Zephyr.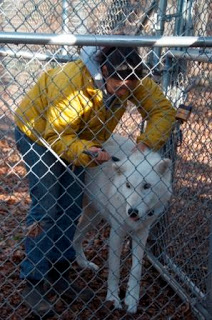 Bose fitting Atka's collar. Photo: Josh Lewis
We quickly placed the sturdy but unobtrusive collars holding small cameras around the ambassadors' necks and then let them get back to their regular
business: roaming around their enclosures and taking part in one of our regularly scheduled educational programs.
After a few hours, during which we were lucky to hear some of Kyler's stories about Crittercam projects – despite all the incredible tales about wild animals, my favorite was about owners graphically learning just how good a hunter their housecat was – we retrieved the cameras.
Before leaving, Kyler was nice enough to preview a portion of the amazing footage for us. We gathered around his computer enthralled by Alawa's view of her enclosure as she ran around, interacted with brother Zephyr, came up to the fence for a program, and even visited Atka.
We're excited to have helped out this worthy project and look forward to future collaborations and, of course, more footage! With any luck we'll also be able to bring Kyler back to the WCC to share his incredible stories with our guests during one of our special programs.
So stay tuned, there's always something interesting going on here!