Saving a Species: Challenges of Match-Making in the Red Wolf Recovery Program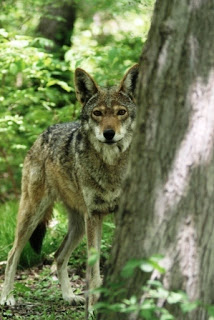 The elusive red wolf F1291
During the summer, the Species Survival Plan (SSP) management group for the red wolf determined the program's breeding pairs for the 2012 season. Wolves are "mono-estrus" — breeding only once a year during the winter months. Hence, winter is an exciting time for wolves in North America and the WCC too!
Last season 8-year-old red wolf F1291 was paired with a younger male, M1587. The two wolves appeared well bonded but unfortunately they failed to prove fruitful. M1587 (aka "Beefcake" due to his impressive physique) is F1291's second male companion since she joined the WCC family in 2004.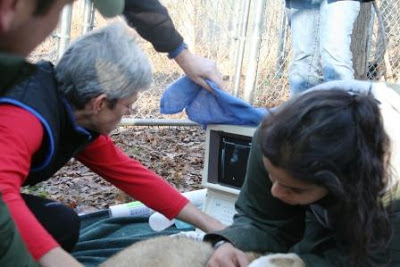 Dr Wood and WCC curator Rebecca Bose
F1291 is the fourth most genetically valuable wolf in the red wolf SSP program so all parties involved have high hopes that she can contribute some of her genetics to the recovery of her species. Last week Quarry Ridge Animal Hospital's Dr Wood generously donated her time and Dr Stuhr from Animal Eye Clinic Wilton let us borrow his ultrasound equipment to help determine why F1291 has yet to have pups. We captured F1291 and then right in her enclosure, Dr Wood and Vet Tech Paula Kennedy conducted the examination. The whole ordeal took no longer than 20 minutes and at day's end nothing out of the ordinary was discovered. Perhaps F1291 prefers that she lead the mate selection process instead of software developed for the population management of her species!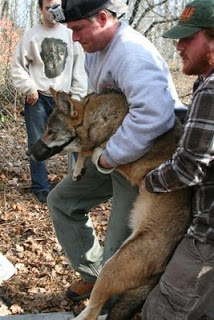 WCC's Jim Horton, Alex Spitzer, and M1587
The Red Wolf SSP management group decided to give F1291 another chance at motherhood and this time with a new red wolf, M1394, from the Mill Mountain Zoo in VA. This morning we returned to the their enclosure with our friends from Rhode Island's Roger Williams Park Zoo to capture M1587. "Beefcake" will soon reside on exhibit at his new home in Rhode Island where he and his new mate, "Sequoia," will help people better understand the importance of their rare species.
It's been a bittersweet morning. We met some great folks from the Roger Williams Park Zoo, we said goodbye to the biggest red wolf any of us have every seen, and we have our digits crossed that the "third time's a charm!" Stay tuned, breeding season is less than a month away!