Aerial Gunning Campaign Puts Idaho Wolves in Peril

On Sept of 2007 the Wolf Conservation Center (WCC) made a trip with Atka to our nation's capitol. Defenders of Wildlife invited the WCC to join Representative George Miller (CA) as he introduced PAW — "Protect America's Wildlife" — a bill designed to put an end to aerial wolf control programs here in the U.S.
Aerial Hunting is against the law. In 1972 Congress passed the Airborne Hunting Act (AHA) to prohibit hunting or harassing animals from aircraft. Although illegal, a controversial branch of the U.S. Department of Agriculture known as "Wildlife Services" leads airborne predator control programs and killing over a million wild animals every year. According to Idaho Wildlife Fish and Game, soon Idaho wolves could join this growing list.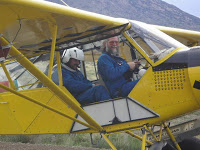 Wildlife Services (paws indicate # of wolves killed)
Several Wildlife Organizations are asking their supporters to speak up for Idaho wolves. Wildlife Services by is beginning its aerial gunning campaign to kill dozens of wolves in the Lolo area near the Clearwater National Forest in Idaho. National WolfWatcher Coalition (NWC) reports the stated reason for the wolf-killing plan is to artificially boost the elk population. Wolves are blamed for the dropping elk numbers in that area even though elk numbers began decreasing in the area long before wolves made their way there. If your hackles are raised, please visit NWC's web page dedicated to help supporters speak up on behalf of these wolves by clicking here. The link also provides contact information for members of the US Senate and House who originally cosponsored the PAW.