Wolves, their recovery, and the status of the keystone predator are often hot topics on Capitol Hill and media outlets in the West. But in the past week, wolves have also been the talk of the town in Hollywood! "The Grey," a film starring Liam Neeson has hackles raised among wildlife advocates in fear that the film's chilling portrayal of wolves can further muddy the already terrible and undeserved reputation that this species is burdened with. The film, opening on January 27th, is an intense adventure thriller about a group of oil rig workers who must fight wolves for their lives in the Alaskan wilderness after their airplane crashes.
In reality, wild wolves are shy and elusive. A person in wolf country has a greater chance of being hit by lightning, dying of a bee sting or being killed in a vehicle collision with a deer than being injured by a wolf.
WCC's Lewis on NPR (Photo: Chion Wolf)
This being said, wolves still continue to evoke high emotions among the masses and this film could possibly ignite additional fear. A few environmental organizations, including the Wolf Conservation Center, have chosen to recognize the film's momentum as a great platform for education – to diffuse the damaging myths that surround this misunderstood predator.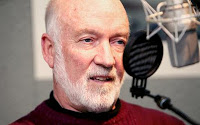 WCC's Darling on NPR (Photo: Chion Wolf)
In the past week, we've really enjoyed discussing wolves with the great folks from NPR's Colin McEnroe Show (listen here), the New York Post, and Sirius Satellite Radio.
If you plan on seeing the film or know someone who intends to do so, the great folks from The National WolfWatcher Coalition created an informative brochure with real facts about wolves. Please feel free to distribute them within your community!
Click on the links to download the brochure's front side and back side.
Several great organizations are asking supporters to boycott "The Grey." To learn more about how you can join this petition, please visit WildEarth Guardians call to action page here.
In the meantime, we can only hope that Hollywood's wolves don't contribute to the many unnatural challenges that wild wolves already face.