Wolf Haven International Can Use a Helping Paw

While it's been a great snowy weekend for the 25 wolves that call the Wolf Conservation Center home, the stormy weather did a real number on Wolf Haven International.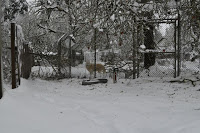 Photo: Wolf Haven International
The Tenino, WA wolf sanctuary will be closed until March to deal with devastating storm damage and they can use all the help they can get. To read more about the storm damage and how you can lend them a paw, please click here.