Prepping for Pups? Webcams Will Let Us Watch!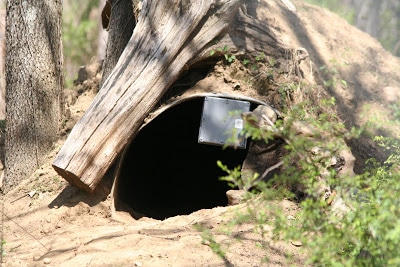 Their new nursery?
In late February when breeding season was in full tilt, things began to really heat up between Mexican wolves M805 and F837. The two lovebirds had never been given the opportunity to breed before so we were thrilled to see their relationship take a romantic turn. Today we are happy to share that the pair continue to give promising indications that pups are on the way! Although we rarely see the pair in the man-made den within the top half of their enclosure, all indications suggest that it's seen a lot of activity.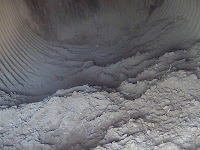 View from Dencam
We're finding that the wolves are rearranging the earth in and around the den on a daily basis, hopefully doing last minute home improvements before the birth of their first litter. Thankfully we'll need not rely on the clues they leave behind to best surmise their behavior, starting early next week people from around the world will be able to spy on them in real time via our new dencam! The camera is one of the eight webcams we're launching. So stay tuned. You could be the first one to witness the birth of their first pups.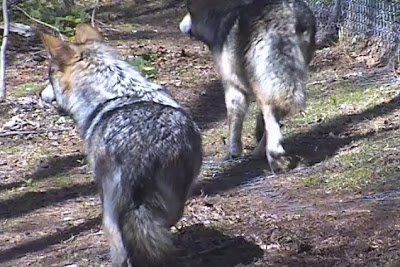 M805 and F837 (Taken by Webcam outside of Den)