Now that wolf breeding season has come to a close, it's time to wait and see which of the Wolf Conservation Center's lucky four breeding pairs will be winners of THE MATING GAME! The winning couples will be celebrating their pups come this month or next and our supporting "audience" (that means you!) will be able to help us keep an eye on all four of our wolf-couple "contestants!" In the next week or so, the WCC and WildEarth.TV will be launching EIGHT brand new LIVE WOLFCAMS on all of our breeding pairs! Each pair's enclosure will house two cameras: one inside their den and another outside. This means that over the coming weeks, you will be given the opportunity to watch for some promising signs of parenthood and even possible births! To get a sample of whats to come, check out the amazing LIVE footage with audio of Jewel the black bear from the North American Bear Center.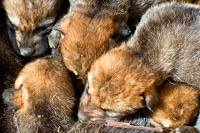 Lobo pups born 4-22-08
The WCC is so fortunate to have already welcomed critically endangered pups on two occasions. On Earth day (of all days) in 2008, six healthy and adorable Mexican gray wolves were born off exhibit. These pups were the first to ever be born at the WCC! We welcomed pups a second time in May of 2012 when red wolves m1803 and m1804 were born in the dense thicket in our red wolf exhibit. Will the WCC be blessed with red or Mexican gray pups again this year? Stay tuned and find out!
Tomorrow: An introduction to COUPLE NUMBER ONE!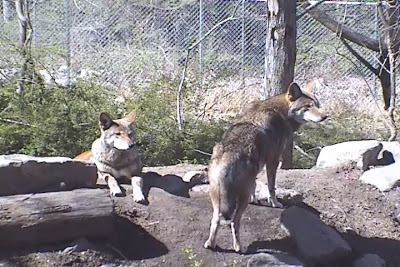 Photo of F1397 & M1483 captured TODAY with our new WOLFCAM!