National Geographic's Crittercam Offers Red Wolf Perspecitive

Ever wonder what it would be like to see the world through the eyes of a wolf?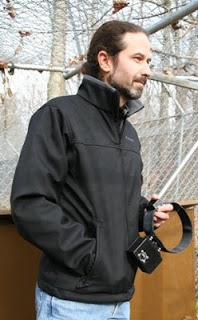 National Geographic's Kyler Abernathy
Thanks to National Geographic's Kyler Abernathy, we have a pretty good idea how our wolves experience their world. Kyler is the Director of Research for National Geographic's Remote Imagery, which means he's instrumental in the designing and implementing of National Geographic's Crittercams – small cameras that offer researchers an opportunity to observe animal behaviors that often elude human eyes. Already these tools have provided a view in the sometimes secret and mysterious world of many species including tree kangaroos, Humboldt squid, sea lions, and more. This summer, Kyler and the team deployed a new model Crittercam on cheetahs in Botswana. The new design worked perfectly on wild cats, but in order to test for potential use with wolves in the wild, Kyler called on us. He knew we'd be up to assist; last year Atka and Alawa successfully sported an earlier version of the unobtrusive collars with flair! But to best perfect the Crittercam collars for wild wolves, Kyler needed to test the new model on wolves we couldn't count on to cooperate.
As a participant in the Red Wolf Species Survival Plan (SSP), the WCC hosts two red wolf packs. These wolves exhibit behavior typical of their wild counterparts – shy and elusive. Under SSP protocols, all captive, critically endangered wolves must be checked by a veterinarian on a yearly basis. With the exception of these events, the SSP wolves are off limits. So with the approval of the Red Wolf SSP, we invited Kyler to join us for the WCC's red wolf health exams. In order to administer vaccinations, take blood, and weigh each wolf, we calmly herd the wolves through their spacious enclosures and into capture boxes – wooden doghouse-like structures with removable roofs. Although the wolves surely dislike these events, they've come to expect our annual intrusions. Red wolf F1397's most recent exam, however, is one she will likely remember. Unlike the rest of the wolves, she received a bit of "bling" at checkup's end! For the next few days F1397 assumed a new role in her pack- she became a Nation Geographic videographer. Her appointment, although impressive, was short lived though. After just four days, Kyler scheduled the collar to detonate an internal collar release mechanism so we could retrieve the tool and F1397's handiwork. Now we'll have to wait to see what a red wolf's angle on our world is.
Stay tuned!
WCC's Maggie Howell, Kyker Abernathy, and WCC's Rebecca Bose