Celebrating Women of the Wolf Conservation Center: Kaila

It's International Women's Day! So today we'll be putting some of the Wolf Conservation Center's powerful females in the spotlight.
Kaila was the WCC's first Ambassador wolf. She was born on May 2, 1995 and joined the WCC family as a young pup. She pioneered our education program and witnessed the organization flourish over one and a half decades.
Described as a real spitfire in her youth, Kaila grew warm and committed to the younger wolves when welcoming them to her pack. Despite forever dodging the spotlight, The quiet queen was a vibrant star and the keystone of her family. She occupied the lowest ranking in the pack hierarchy which by no means suggests that she was the least important or loved. It was Kaila's role to furnish cohesion among her "brothers", an essential characteristic for a successful pack.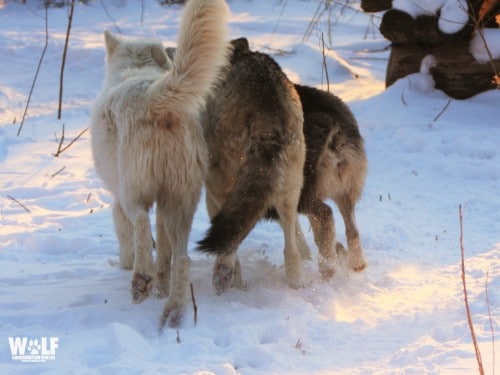 Widowed twice over in 2010 with the passing of Apache and Lukas, Kaila continued to thrive and quietly win the hearts of our visitors until February of 2011 when her body showed signs that it could no longer persevere.
We said goodbye to Kaila on February 21, 2011 and later that spring she joined her fallen pack mates as a part of the Yellowstone landscape where they now forever dwell among the wild wolves that they helped people better understand.
We miss you, Kaila!
Video Tribute to Kaila: