It's LoboWeek – Honoring America's Most Endangered Gray Wolf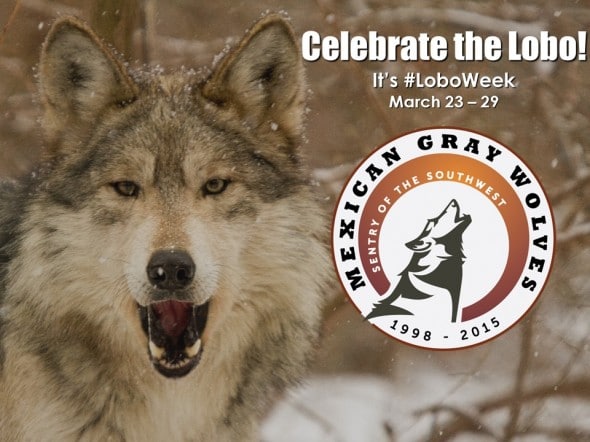 The Wolf Conservation Center joins #LoboWeek, an annual effort that will harness the collective power of a WILD group of partners to educate people about the importance of wolves on the landscape of the southwest. On March 29, 1998, 11 captive-reared Mexican gray wolves were released to the wild for the first time in Arizona and New Mexico. Missing from the landscape for more than 30 years, the howl of the rarest and most unique subspecies of gray wolf was once again greeted by the mountains of the southwest. This week, #LoboWeek, marks the 17th anniversary of this historic event, a significant milestone for the lobo and wildlife conservation! In recognition of the anniversary, wildlife organizations, zoos, advocacy groups, businesses, and individuals are coming together with one common purpose – to educate people about the Mexican wolf or "lobo" and our efforts to successfully restore this critically endangered wolf to their ancestral homes in the wild.
"#LoboWeek is not only a unique holiday, it's an awareness raising tool that allows us to educate people about America's most endangered gray wolf," explained Wolf Conservation Center's Maggie Howell. "Mexican gray wolves remain critically endangered due to natural and political challenges they face. Via the #LoboWeek movement, we aim to discuss our critical efforts to recover Mexican wolves and mobilize support for these essential creatures who cannot speak for themselves. With the WCC's over 2 million followers on Facebook alone, our #LoboWeek howls are sure to be heard!"
To learn more about #LoboWeek and how you can be a part, please visit our #LoboWeek web page and the WCC Facebook Page.