Congresswoman Nita Lowey (NY) Stands for Wolves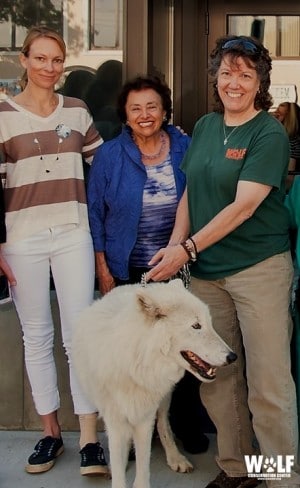 WCC's Howell, Rep Lowey, WCC's Massi
and Ambassador Wolf Atka
HOWLS of THANKS to Congresswoman Nita Lowey (NY), ranking Democrat on the House Appropriations Committee, for speaking out against the anti-wolf rider attached to the 2016 Interior and Environment Appropriations bill!
Buried deep in the bill is language directing the Secretary of the Interior to end federal protections for gray wolves in Minnesota, Wisconsin, Michigan, and Wyoming and thus allow trophy hunting of wolves to resume within these regions. And To add insult to injury, the bill also stipulated that the action would not be subject to judicial review thus prohibiting any legal challenge.
According to our friends at Earthjustice, both Rep. Lowey and Rep. Betty McCollum (MN) highlighted their concerns about anti-environmental riders in the in the bill at this morning's House Interior/EPA subcommittee appropriations markup.