Wolf Conservation Center Slammed by Storm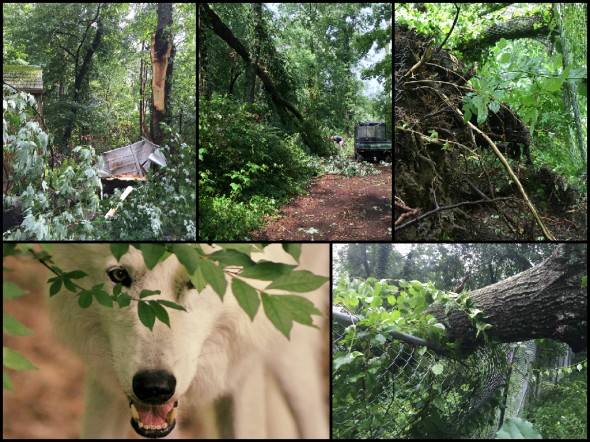 Wolf Conservation Center staff, volunteers, and wolves are sharing a collective sigh of relief today. Yesterday afternoon a brisk thunderstorm with powerful winds ripped through the Center and knocked down dozens of large trees crushing several fences in their fall. Thankfully, the wolves are okay. WCC's endangered species facility which houses the majority of the Center's critically endangered Mexican gray wolves and red wolves bared the brunt of the formidable and quick moving storm. Although four enclosures were compromised, the wolves remained safe and contained. WCC staff and volunteers worked through the night to move wolves from damaged enclosures, make the pathways and roads accessible, and address the fallen fence-lines.
We are so thankful for our dedicated team of volunteers and interns who rushed to our aid – what an amazing crew! Although they've been working tirelessly to remove fallen trees and erect damaged fences,a lot of work remains to be done. If you are able, please consider making a donation to help us in this effort. Every penny helps!
Some good news — since our restricted area was impacted the most, all education programming will remain on schedule! Thank you!