Red Wolf Pupdate – Time for a Checkup!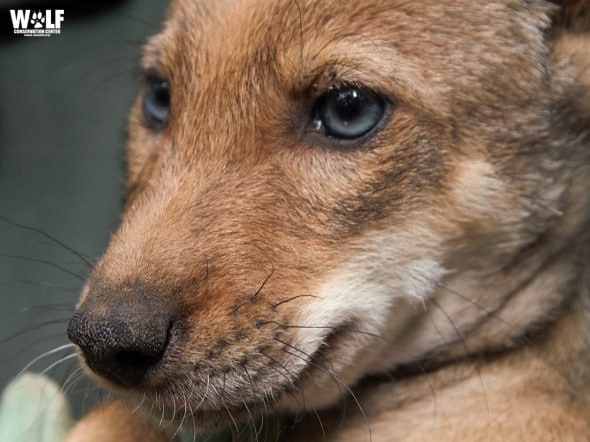 Male red wolf pup – The largest of the litter!
On May 2, 2015, red wolf F1563 (a.k.a. Salty) gave birth to a litter of pups. All of them adorable and each a valuable contribution to the recovery of his and her rare and at-risk species.
Under Red Wolf Species Survival Plan (SSP) protocols, captive born pups must be checked during certain milestones in their development. We checked the pups at one day old to determine the size of the litter and take stock of their health, and then again at ten days, and last week at their two month mark.
The Wolf Conservation Center staff and volunteers gathered early on Thursday morning to locate, capture, and "process" the pups. Our goal is to record heart rates and weights and administer wormer and the first of a series of three Distemper/Parvo vaccinations. As newborns, each pup was no larger than a potato. Now at two months old, the rapidly growing pups are all ears and paws and thus much better equipped to hear and elude the WCC team.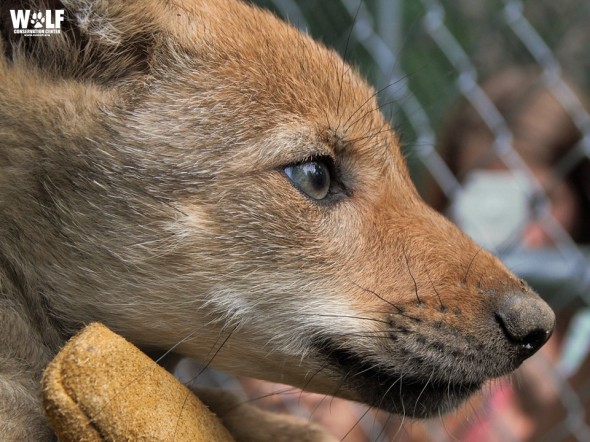 "Peanut" the runt of the litter.
Based on observations of the pups' behavior via webcam, we were fairly positive that some of the pups would remain well stashed their favorite hiding place – a cavernous tunnel engineered by the pups themselves within the family's deep den. And the pups proved us correct… We were able to wrangle four of the gangly pups but confirmed via webcam footage that two of the kiddos had hunkered down out of reach. The runt of the litter (affectionately nicknamed "Peanut" by the WCC's webcam community) was among the elusive pair. Although we were happy to have caught the four, we were especially intent on recording Peanut's progress and determining the cause of his newly acquired limp.
So it was a wonderful surprise when midway through the health checks the daring tyke made a run for it wiggling out of the den's hole and sprinting across the enclosure! WCC interns immediately alerted the team and Peanut was soon in our grasp. Dr Charlie Duffy VMD, our veterinarian who donates his time and expertise to the WCC, thoroughly examined Peanut and rest and they all looked to be in great health! We determined that Peanut's uneven gait stems from nothing more than a bruise, a likely souvenir from romping and wrestling with his frisky kin which should heal on its own.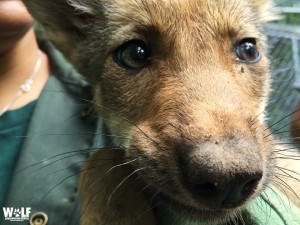 The female pup – the feistiest!
Here's the breakdown from the exam:
• Male Pup – 9.8 lbs
• Female Pup – 8.4 lbs
• Male Pup – 7.0 lbs
• Male Pup – 7.6 lbs
• Male Pup – 6.0 lbs (Peanut)
• 6th Male Pup – ?
The pups' next checkup will be at their three month milestone but you can check in anytime! Follow the pups' progress via webcam and let us know what you see!