Don't Sink the Ark – Protect the Endangered Species Act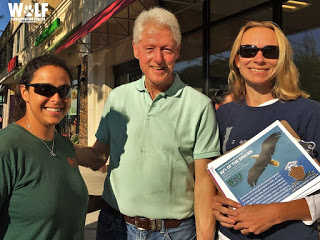 WCC's Rebecca Bose and Maggie Howell with President Clinton
"I brought wolves back to Yellowstone." ~ President Bill Clinton
Yellowstone: The "little space" wolves were given in 1995 and 1996 when the federal government gave the green light to return wolves to portions of their native range in the West. The reintroduction of gray wolves to our first national park has been described as a near-miracle, having occurred at one of those rare moments when stars align in the political sky. A wildlife conservation effort with such positive environmental impact (and ongoing controversy) will likely go unmatched for a long time. But with the support of the American public and the critical protection for wolves afforded by the Endangered Species Act (ESA), a new chapter in Yellowstone's history began with a homecoming that changed the Park.
Sadly what we are witnessing in Congress today is a full-fledged attack on our nation's most important environmental law despite the sentiment of the American public. According to a new national poll, 90% of American registered voters support the ESA, and 71% of voters believe ESA listing decisions should be made by scientists, not by politicians. And yet today's Congress is bent on challenging the integrity and weakening the effectiveness of this cornerstone of environmental law.
Please ask your members of Congress to fight back against legislation that would weaken the ESA and push more imperiled animals to the brink of extinction!
Find Your Senators & Representatives here.
Please consider signing/sharing Earthjustice's​ campaign to save the ESA here.
Download the Save the ESA Flyer here.