Wolf Conservation Center Mourns Mexican Gray Wolf F1145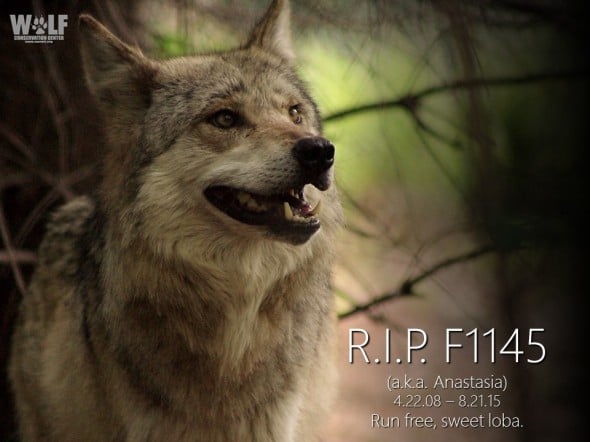 It is with a heavy heart that I share sad news about a special wolf. Mexican gray wolf F1145, nicknamed "Anastasia" by Wolf Conservation Center (WCC) volunteers, passed away today.
F1145 was born on April 22, 2008 at the WCC. F1145 never received the opportunity to take her rightful place on the wild landscape like brother and litter-mate M1141 will later this year. Nor was F1145 ever granted the opportunity to raise of family of her own. For all her 7 years, F1145 resided off-exhibit with her family in a remote enclosure where she unknowingly helped raise awareness for the importance and plight of her wild kin.
Wolves are naturally fearful of people, and a number of our Mexican gray wolves are candidates for release. Maintaining their timidity around people is essential if we want them to have a good chance of survival if released into the wild. The WCC's Endangered Species Facility houses five vast enclosures which provide a natural environment where these most elusive creatures can reside with minimal human contact. Most of these enclosures are equipped with wireless surveillance cameras to allow WCC staff to observe food and water intake and monitor the physical well-being of each wolf without the animals' knowledge.
Because these webcams are available for the public, F1145 was able to enter our homes and hearts via webcam, opening the door to understanding the importance of her endangered kin and our efforts to recover them.
WCC Curator Rebecca Bose noticed on Sunday that F1145's muzzle was a little swollen. Normally this wouldn't be alarming, however, fast-growing nasal tumors are prevalent among Mexican wolves. Since 1995 more than 25 cases of nasal tumors have been documented in the captive populations of Mexican wolves in both Mexico and the U.S.A. Although cancer represents only 3.3% of the causes of death in the registered Mexican wolf populations; 44.4% of these neoplasms are nasal tumors. In its great majority these tumors are locally aggressive but rarely metastasize. A genetic component is currently being investigated.
Bose noted via eyewitness account and webcam that F1145's muzzle and face was becoming increasingly misshaped at an alarming rate. Early this morning, WCC staff brought F1145 to our lead veterinarian Dr Charlie Duffy VMD of Norwalk Veterinary Hospital where her cancer was confirmed. F1145's tumor was very aggressive and in just days began to erode her skull. She is no longer in pain now. We put the sweet wolf to sleep.
Our hearts go out to her 16-year-old mother F613, her sister F1143, her brothers M1140, M1141, M1139, and those of you she had unknowingly touched.
R.I.P., Sweet loba