Endangered Mexican Gray Wolf Slated to Breed This Winter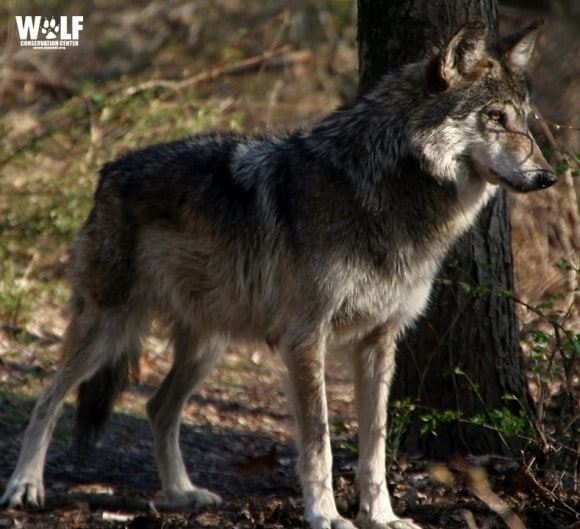 It might still be September but Wolf Conservation Center (WCC) staff and volunteers have their minds on winter…
During the summer, the Species Survival Plan (SSP) management group for the Mexican gray wolf determined the program's breeding pairs for the 2015-16 season. Wolves are "mono-estrus" — breeding only once a year during the winter months. Hence, winter can be an exciting time for wolves in North America, the WCC, and this year for Mexican gray wolf M1133 (a.k.a. Rhett) too!
The lobo has been a lone wolf since losing his mate, F810 (a.k.a. Scarlett) last spring to a uterine infection. His bachelor days will some to a close, however, when Mexican gray wolf F1226 arrives from U.S. Fish and Wildlife's Sevilleta Wolf Management Facility later this month to join the WCC family. M1133 and F1226 are genetically valuable individuals and have been selected to breed because their offspring will increase the genetic diversity of their rare species.
While we cannot predict how the pair will get along, their introduction and possible seduction should be an exciting new chapter of M1133's life.
Learn more about M1133's story here.
Join M1133 via LIVE Webcam.
The Mexican gray wolf (Canis lupus baileyi) or "lobo" is the most genetically distinct lineage of wolves in the Western Hemisphere, and one of the most endangered mammals in North America. By the mid-1980s, hunting, trapping, and poisoning caused the extinction of lobos in the wild, with only a handful remaining in captivity. In 1998 the wolves were reintroduced into the wild as part of a federal reintroduction program under the Endangered Species Act. At last count in January 2015, there is a single wild population in the U.S. comprising only 109 individuals.