Happy Birthday to Mexican Gray Wolves F1143 and M1059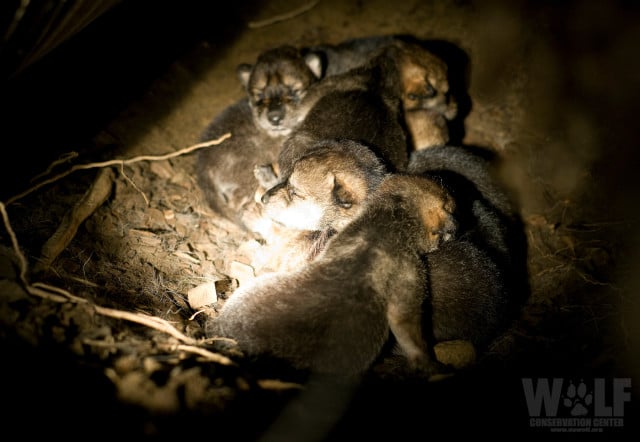 Eight years ago, the Wolf Conservation Center family grew. During the early morning hours on April 22, 2008, Mexican gray wolf F613 (affectionately nicknamed "Mama Gray"), quietly had six pups in her den and created a new holiday – "B'Earth Day!"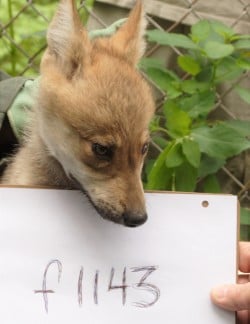 The six newborn pups (three girls and three boys) were not only adorable, they were (and still remain) an essential contribution to the recovery of their rare species. As the siblings matured, opportunities came knocking. As a part of ongoing efforts to reintroduce critically endangered Mexican gray wolves into a portion of their ancestral home in the United States southwest and northern Mexico, U.S. Fish and Wildlife (USFWS) selected one of the siblings to be released into the wild! In 2015 Mexican gray wolf M1141 was paired with a mate and released in the wild of northern Mexico!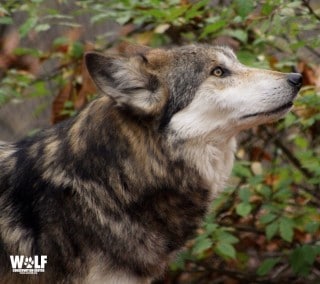 M1059
A new chapter opened for Mexican gray wolf F1143 too. She met a birthday buddy! Last fall she was introduced to Mexican gray wolf M1059 who was born on April 22 of 2007.
This is the first year M1059 (affectionately nicknamed "Diego") is celebrating his birthday at the Wolf Conservation Center – the lobo joined the WCC family in November of 2015 from the Seneca Park Zoo. It's also the first time he's been able to share his big day with a lady!
The Species Survival Plan (SSP) management group for the Mexican gray wolf determines which wolves should be bred each year by using software developed for the population management of endangered species. This is necessary because all Mexican wolves descended from just 7 founders rescued from extinction. Genetic diversity is the primary consideration in the selection of Mexican wolf breeding pairs and during last year's meeting it was determined that M1059 and F1143 are a great match (on paper) with an extremely low inbreeding coefficient.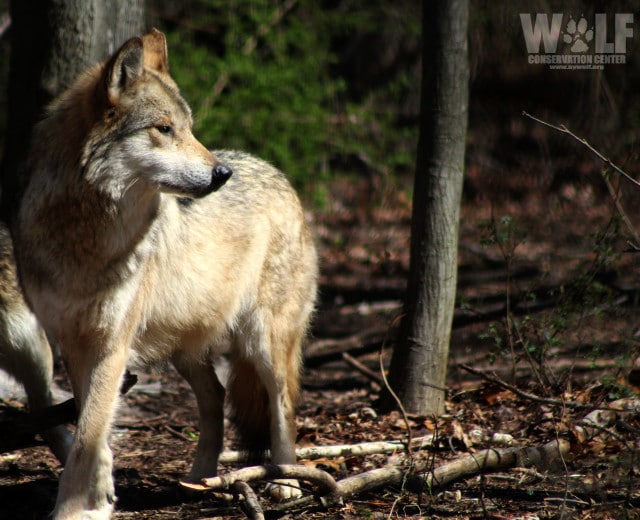 Mexican gray wolf F1143
Sadly, just months after F1143's new life with M1059 began, another chapter closed when her mother, F613 (affectionately nicknamed "Mama Gray"), passed away at 16 years old. But as life would have it, on the very day of her mother's passing (March 2nd), F1143 and M1059 engaged in a copulatory tie – a necessary step to allow her mother's legacy to thrive. The gestation period (length of pregnancy) for wolves is 63 days so we won't know the outcome of their union until early May.
So today we wish the dashing duo wild and wonderful birthdays and we'll keep our paws crossed that the pair will soon have reason to celebrate with potential pups of their own.
Happy birthday, Mexican wolf F1143 and M1059!